Description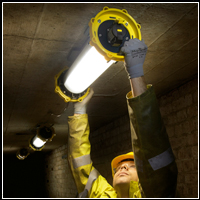 ATEX and IECEx Certified for Zone 1 and 2 explosive gas and Zones 21 and 22 dust atmospheres
Emergency back-up light
Up to 3 hours battery duration after full charge
Fitted with plugs and sockets, linkable in series
Twin lamp configuration
Compact and robust design
Wide voltage range 110V – 130V
Uses standard compact fluorescent lamps for ease of maintenance
Control ballast incorporates 'End of Life' protection circuit
Integrated Unistrut compatible mounting points

Downloads
Leaflet – Fluorescent Leadlamp
Instruction manual – Fluorescent Leadlamp Instructions
THE LINKEX™ PORTABLE FLUORESCENT LEADLAMP EMERGENCY HAS A BUILT-IN BACK-UP BATTERY POWER SUPPLY TO LIGHT THE LAMP IN THE EVENT OF A POWER FAILURE AND IS IDEAL FOR EXIT ROUTE LIGHTING ALLOWING HAZARDOUS AREA WORKERS TO FIND THEIR WAY TO SAFE AREAS AND EMERGENCY MEETING POINTS.
The Emergency Leadlamps are ATEX Directive and IECEx Certified for safe use in Zone 1 (Cat 2) IIC potentially explosive gas, vapour, mist and dust atmospheres, where a T3 temperature class permits and have twin side by side forward facing 36W energy efficient fluorescent lamps, delivering 5800 lumens output, available in voltages of 110V to 130V.
Upon power failure, the Emergency Leadlamp's battery back-up supply initiates and powers one fluorescent tube immediately at a reduced power level, giving approx. three hours light output. The leadlamp should be charged/discharged 3 times upon commissioning to ensure the battery is cycled to peak capacity, charging time shall be min 24hrs. If powered for a short time the battery duration will be proportionally reduced.
The Emergency Leadlamp is supplied with an ATX plug and socket to allow the units to be instantly linked together, allowing for quick and easy installation over a large area and can be used in a chain, in series or intermittently, with Wolf's range of LinkEx™ Luminaires and Floodlites.
Unistrut compatible mounting points on the lamps provide a flexible and low cost installation solution allowing them to be quickly and easily fixed in position on pipes, scaffold or a ferrous backdrop with magnetic fixings. In addition, the leadlamps are easy to maintain and re-lamping is simple using standard compact fluorescent lamps and can be done by a competent electrical engineer.
Light Output
2 x 36W 180°
Peak luminous intensity at 2.5m 190 lux, at 5m 50 lux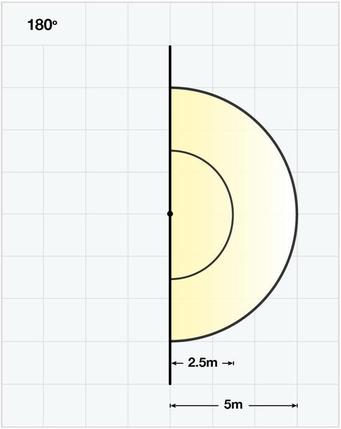 Product Dimensions

Product Reference
LL-540/E
Product Description
ATEX Fluorescent Leadlamp – Emergency Linkable
Code
II 2 GD Ex embd IIC T3 Ex tD A21 IP66 T102°C
Type of Protection
"e" increased safety
"m" encapsulation
"d" flameproof
Area of Classification (Gas)
Zones 1 & 2
Gas Groups IIA, IIB, IIC
Temperature Class
T3
Area of Classification (Dust)
Zones 21 & 22
Max Surface Temp (Dust)
102°C
Ambient Temperature
-15°C to +53°C
Certificate
SIRA08ATEX3098

IECEx SIR 10.0121

Enclosure
Polymer
Lens
Polycarbonate with Anti-Static Coating
Beam Type
Wide Angle White Area Light
High Output & Efficiency
Low Glare
Light Source
Type – Standard 2G11 CFL Compact Fluorescent

Life – Up to 10,000 hrs

Power – 2 x 36W

Typical Consumption – 62W

Output – 5800lm

Voltage
110-130V AC
Weight
4.1kg
Length
0.58m
Ingress Protection
IP66
All products supplied with 4mm2 SY Cable and ATX plugs/sockets as standard. CEAG and Stahl Plugs and Sockets available on request. Ships braided cable for offshore applications to BS6883 available on request. All products supplied with fluorescent lamps fitted as standard.
The Emergency Leadlamp will come on every time the supply is removed.
All information has been gathered under laboratory conditions, the user must regard the values given as approximate.
Changes may be made to the above specification without notification, details are available on request.