Description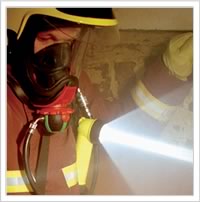 ATEX and IECEx certified for Zones 1 and 21, plus Zones 0 and 20 version available
High power LED for outstanding light output
Compact and lightweight ergonomic torch design
Two power levels of light output give up to 6.5 hours light duration
Rechargeable battery with low power indicator
Supplied with wrist strap and clip ring
Emergency illumination function
Mains and vehicle charger options
Suitable for cyclic and short and long term standby applications
Very low maintenance, quick and easy parts replacement
Downloads
Leaflet – Rechargeable Torches
Certificate – R-5x Lloyds Certificate
Certificate – R-5x ATEX Certificate
Certificate – R-5x IECEx Certificate
Instruction Manual – ATEX Rechargeable Torch Instructions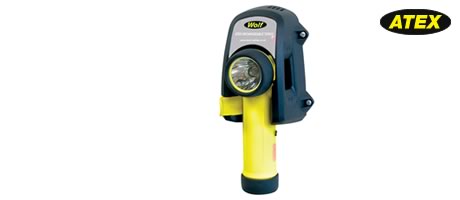 THE WOLF RECHARGEABLE TORCH IS AN ATEX AND IECEX CERTIFIED RECHARGEABLE RIGHT ANGLE SAFETY TORCH, USING THE LATEST TECHNOLOGY TO GIVE EXCELLENT PERFORMANCE, ROBUSTNESS AND RELIABILITY FOR SAFE USE IN ZONES 1 AND 2 POTENTIALLY EXPLOSIVE GAS AND 21 AND 22 DUST ATMOSPHERES (R-50). ZONES 0 AND 20 VERSION AVAILABLE (R-55).
This high strength right-angle torch is extremely robust and reliable, with proven shock protection, even at sub zero temperatures, rubber armoured lens ring and end cap, scratch and chemical attack resistance lens, with a certified IP67 enclosure. The compact, lightweight and ergonomic torch body gives enhanced grip and comfort for the user with easy single-handed switching, even with gloved hands, plus the replaceable high strength clip allows for hands free use.
Unique optics deliver a piercing beam of outstanding light from a high power LED, and using the latest rechargeable battery technology provides a light duration of up to 6.5hrs on low power and 3.5hrs on high power. The low battery power indicator allows a user to monitor the state of battery charge as it diminishes, a bar of high intensity red LEDs go out and finally the beam flashes repeatedly, warning recharging is required. Plus its emergency function illuminates the torch if power to the charger is cut to provide standby escape lighting. Optional primary cell cassette is available for back-up power.
The torch is low maintenance with quick and easy parts replacement, a full spares service is offered for all internal/external fittings, and the LED light source is expected to last the product's lifetime. Vehicle and mains voltage charger options offer a rapid recharge time of only 1.5hrs for 90% capacity, plus the mountable 'quick' charger is configured as a torch holder, with 'snap in/snatch out' function, for quick release but secure retention.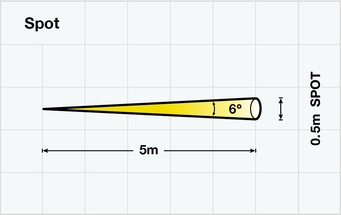 Rechargeable Torches
R-50/R-55 – 3W LED Beam (approx 6°)
Peak luminous intensity at 5m 630lux
Product Dimensions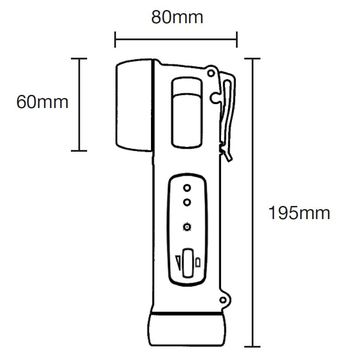 Product Reference

R-50

R-55

Product Description
Rechargeable Right Angle Safety Torch
Zone 1 LED
Zone 0 LED
Code

I M2/II 2GD
Ex ib I Mb/IIC T4 Gb
Ex ib IIIB T200°C Db IP67
-40°C≤ Ta ≤40°C

I M1/II 1GD
Ex ia I Ma/IIC T4 Ga
Ex ia IIIB T200°C Da IP67
-40°C≤ Ta ≤40°C

Type of Protection
'ib' intrinsic safety
'ia' intrinsic safety
Area of Classification (Gas)
Zones 1 & 2
Gas Groups IIA, IIB and IIC
Zones 0, 1 & 2
Gas Groups IIA, IIB and IIC
Temperature Class (Gas)
T4
Area of Classification (Dust)
Zones 21 & 22
Dust Groups IIIA and IIIB
Zones 20, 21 & 22
Dust Groups IIIA and IIIB
Max. Surface Temp. (Dust)
T200°C
Ambient Temperature
-40°C to +40°C
Certificate
Baseefa05ATEX0069X / IECExBAS06.0001X
Enclosure
Impact Resistant Thermoplastic, Chemical Resistant, Static Dissipative
Lens
Toughened Glass 4mm
Beam Type
High Output Spot Beam
Light Source:
Type
High Power LED
Watts
3 Watts
Output
High Power – Up to 243lm / Low Power – Up to 135lm
Life
25,000hrs+ (Fitted For Life)
Power Source:
Part No.
R-271
Type
Rechargeable Battery, Lithium-Ion
Volts
7.4V
Capacity / Life
2.4Ah / Up to 500 Recharge Cycles
Light Duration
High Power – Up to 3.5hrs / Low Power – Up to 6.5hrs
Ingress Protection
IP67
Weight (inc. cells)
0.375 Kg
Chargers
12-24Vdc RC-200L / 100-254Vac RC-200H
Recharge Time
3.0 hrs (90% in 1.5hrs)