Description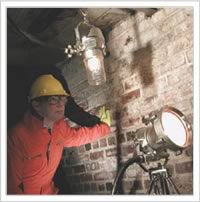 CE marked to ATEX Directive, for use in zones 1 and 2 Hazardous Areas
Aluminium super-lightweight construction
250 watt Halogen light output
Safe compressed air power source
Re-designed for greater reliability
Fitted with stainless steel exhaust silencer
Dust ignition protected for zones 21 and 22 using remote exhaust
Group I Mining approval with alternative brass construction
US Factory Mutual dual marking approval
Downloads
Certificate – ATEX Turbolite Certificate
Certificate – FM Turbolite Certificate
Certificate – Atex Turbolite Lloyds Certificate
Leaflet – ATEX Turbolite
Instruction manual – ATEX Turbolite Instructions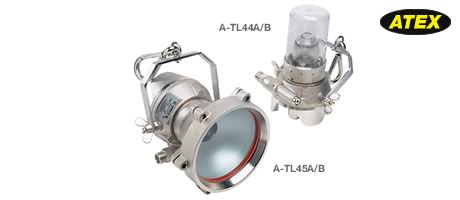 THE ATEX TURBOLITE IS A HIGH POWER COMPRESSED AIR DRIVEN LAMP FOR USE IN POTENTIALLY EXPLOSIVE ATMOSPHERES AND MEETS EN 1127 'EXPLOSION PREVENTION AND PROTECTION' IN EUROPE AND FM CLASS 3600 'ELECTRICAL EQUIPMENT FOR USE IN HAZARDOUS (CLASSIFIED) LOCATIONS' IN THE USA.
Wolf airlamps provide illumination for shotblasting, cleaning and coating of storage tanks and vessels and pipeline and structural engineering activities, offering a safer alternative to mains and low voltage lighting where explosive atmospheres present a serious risk to the workforce. Light models include: Bay provides a high level of all-round general illumination and Flood has a matt reflector giving a wide-angle diffused beam. Available in aluminium (A) or brass (B), usable in gassy mines and all lamps are nickel plated to protect against corrosion and are supplied with a bridle and safety hook fitted.
The ATEX Turbolite is powered, purged, pressurised and cooled by compressed air controlled by an integral regulator, which passes through the lamp head and drives the turbine wheel by means of three nozzle plates. The turbine drives a magnet rotor within windings, generating the 24 Volt ac electrical supply which powers the 250 Watt halogen bulb. Major improvements over other models, include sealed bearings, refined regulator, greater use of stainless steel components, bulb-life enhancing device and silencer with a particle trap.
Special certification conditions: clean, dry compressed air and anti-static air hose are used to operate the lamp to minimise contamination inside the lamp and dangerous accumulation of static electricity and in potentially explosive dust atmospheres a 'remote exhaust' must be used, exhausting air to the safe area. Accessories available include anti-static hoses, filters and stands, tripods, setting and testing devices.
Technical Specifications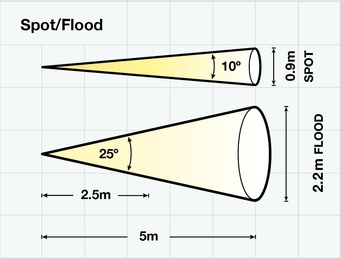 A-TL44A/B – Ball Glass
Peak luminous intensity at 2.5m 70lux
A-TL45A/B – Polished Reflector
Spot Beam (approx 10°)
Peak luminous intensity at 5m 2000lux
A-TL45A/B – Matt Reflector
Flood Beam (approx 25°)
Peak luminous intensity at 5m 950lux
Product Dimensions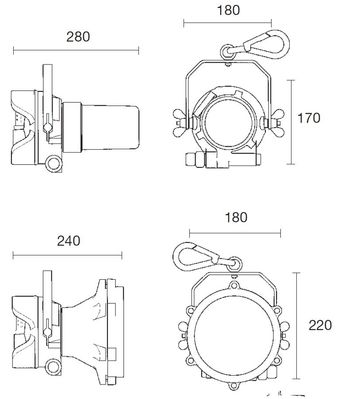 Product Reference

A-TL44A

A-TL44B

A-TL45A

A-TL45B

Product Description
Safety Bay Light, Compressed Air Powered
Safety Flood Light, Compressed Air Powered
Code
ATEX
II 2 GD II T4 (Tamb = 55°C) T135°C
Mining
–
I M2
–
I M2
FM
Class 1 Div 1 Groups A, B, C, D. T4 Ta = 55°C
Apparatus Standards
EN1127:1998
Type of Protection
Technical File
Area of Class (Gas)
Zones 1 and 2, Gas Groups IIA, IIB, IIC
Temp. Class (Gas)
T4
Area of Class (Dust)
Zones 21 and 22
Max Surface Temp. (Dust)
T135°C
Ambient Temperature
-20°C to +40°C
Certificate
SIRA02ATEX5099X
Enclosure
Aluminium
Brass
Aluminium
Brass
Lens
Lens Ball Glass/Plastic Dome
Toughened Glass (15mm)
Beam Type
All-around 360°C Illumination
Flood (as standard) or Spot (to order)
Light Source:
Part Number
A-129 (as standard) / A-159 (alternative)
Type
Halogen Filled Filament Bulb
Volts
24v
Watts
250w
Output
6000 lm/9000 lm
Life
2000 hrs/200 hrs
Power Source:
Type
Compressed Air Driven Turbo-alternator
Air Pressure
5.0-8.0 bar
Consumption
0.75m3/min
Ingress Protection
Once pressurised may be used underwater
Weight
5.5kg
9.4kg
7.1kg
13.5kg
Accessories
The Airturbo and Turbolite lighting systems are very flexible and can be adapted to all sorts of confined space applications varying from huge storage tanks to small sewers.

The Lamps can be suspended from bracing or spars, sited on platforms or mounted on tripod stands to illuminate the entry and working area as effectively as possible.

As previously emphasised, there are two important conditions of Certification which must be observed in any installation:

1. The supply hose must be of an Approved Anti-Static Type such that the electrical resistance between couplings must be within the limits of 104ohms (Min.) and 108ohms (Max.)

2. The compressed air supply should be clean, dry and uncontaminated.

Folding Tripod Stand A-300
This very strong and convenient tripod stand is available for mounting airlamps in such a way that illumination can be angled in most directions. The lamp can be clamped to the tripod head without the need of any tools. When not in use the tripod can be folded away for easy storage.

Anti-Static Compressed Air Hose (A-179 and A-180)
This special 12mm bore single braid hose is manufactured from an anti-static compound and is available in 18.3 metre (A-179) or 36.6 metre (A-180) lengths. Stainless Steel Hose Clips are provided but air line couplings are not for reasons of possible incompatibility.

Air Line Filters
A simple automatic drain airline filter (A-184) can be supplied, but where there are major difficulties in achieving the air quality required an ultra high efficiency filter system (A-186) is recommended, and, as with the simple filter, has the throughput capacity sufficient to power either two Turbolites or six Airturbo Lamps.

Tools and Spares
All of these items are available off the shelf and in special circumstances can be express shipped the same day in order to meet an urgent demand.

Repairs
The company offers a repair and refurbishment service for all its compressed air safety lamp products with the aim of completing these tasks within 7 days of receiving confirmation instructions. Repair instructions and procedures are written in accordance with ISO 9000 Standards.