Description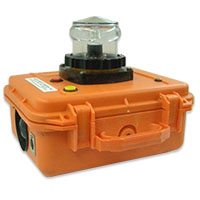 Durable orange watertight polypropylene case
Triple flash 20W strobe (60 flash/min) with bullet proof Lexan lens
125DB waterproof siren (2 sec on/8 off)
Waterproof switches and connections
12V 18Ah battery
Sealed preset timer
20 hours continuous use
7 hour recharge
Downloads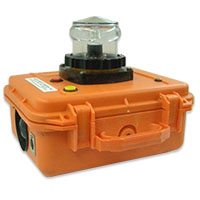 The "Fire Fighter's Friend" is an exit locator that could save firefighter lives. It is a very rugged piece of equipment and has proven very valuable on fire scenes.
It should be used on every fire inside a structure. When the offensive / interior attack mode is selected on a fire which requires any firefighter to enter an atmosphere immediately dangerous to life and health, this product must be pressed into immediate use!
The unit should be placed just to the right of the door or opening which the fast attack and/or primary search teams used to begin their operation. The strobe light and siren should be immediately activated so when a firefighter, lost in a structure sees or hears the exit locator, he / she can move toward it and be guided to safety.
If the unit is used in the proper manner, it could save lives!